The Best Couples Guide to Electric Bikes in 2018
Optibike has been selling Electric Bikes since 2007 and in that time we have seen many couples change their lives.
These couples have been able to find a common activity to share. An activity where they both get to ride at a pace that is comfortable for each of them.
The most common comments I hear from customers are:
"It is so easy to climb hills on an Optibike"
"We travel much further than we ever imagined"
"We no longer need the car for many trips"
"We are having so much fun!"
Couples would often explore solitary roads or go to the mountains. They may go to that special restaurant or to a private lake they had discovered.
"We felt like kids again"
I wrote this short guide to help couples understand what electric bikes can do for them and make a good choice in fitting their bikes. This guide has been written from this experience with Optibike couples and riding with my wife.
Each couple's needs are unique and it is best to understand some of the technology and capabilities of electric bikes before you go shopping. Best of luck in your travels.
– Optibike Founder, Jim Turner
An overview of what you'll read:
The Thrill of Exploring
How Far Can We Go?
Bio Smooth Pedaling
Do We Need the Same Bikes?
One + One = Fun
Batteries and Range
Motor Drive Systems and Hill Climbing
How to Choose the Right Bike
Which Bike is Right For You
Electric Bike Regulations
Riding Gear
E-Bike Security
Maintenance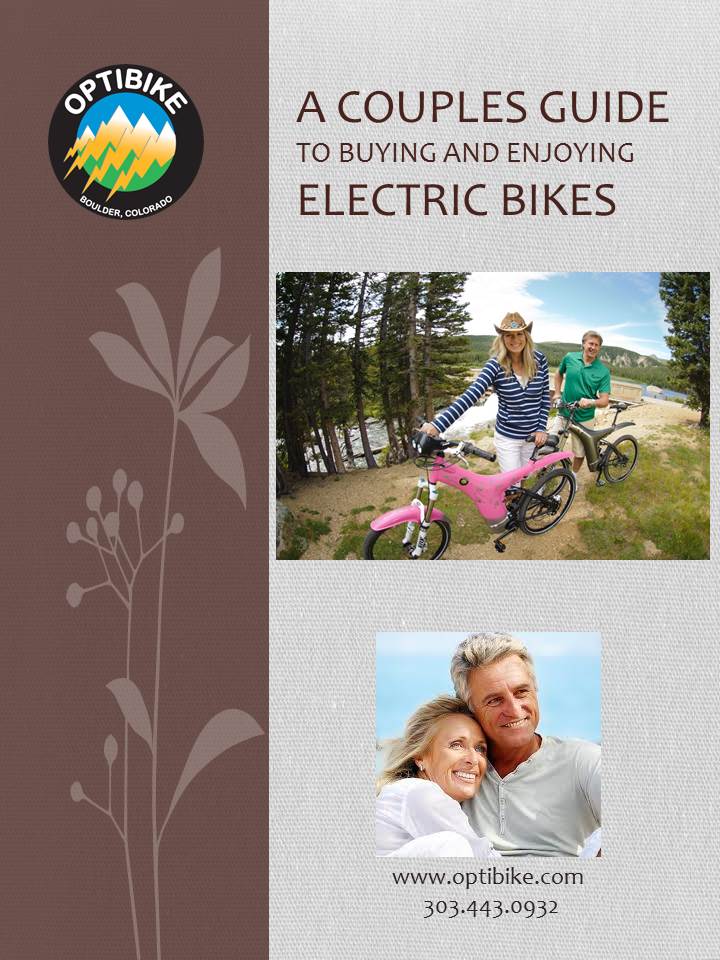 Download Now
A Couples Guide to Electric Bikes
Read instantly, we'll also send you an email with the download to keep for later.
You'll also get our Newsletter and occasional promotional email, you can easily unsubscribe if you don't like them!