Optibike Argon
High Quality, Light Weight, Affordable.
Our Easy to Use, Lightweight E-Bike!
Easy to ride! Just hop on and start pedaling.
Only 37 lbs! (16.8 kg)
2x more power
2x more range
Maintenance free belt drive
Integrated Headlight powered by main battery
Responsive Pedelec with dual sided torque sensor
Throttle included for easy starts on hills and stop signs
Type 2 or Type 1 E-Bike (Easily switch to type 1 by removing the throttle)
Made in Taiwan
$2,795
In stock and ready to ship!
Order Here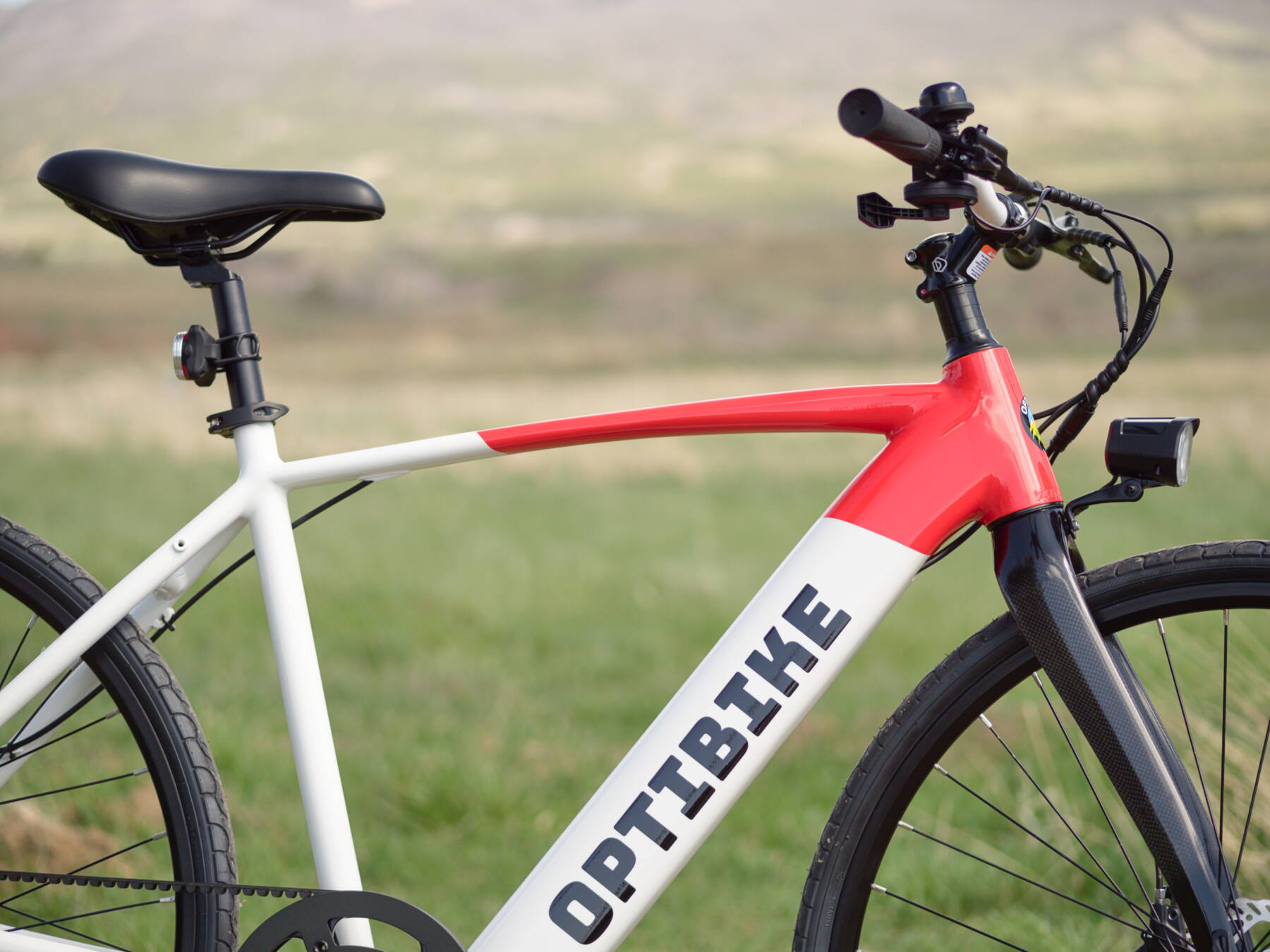 Lightweight, great looks, high quality.
At only 37 pounds (17 kg), the Argon is a super lightweight e-bike. At least 15 lbs lighter than other e-bikes with similar size batteries. This makes it easy to carry up some stairs or put on a bike rack.
Elegant design combined with a large battery and high quality components make this the best value on the market today.
Every aspect made with performance, quality, and longevity in mind. The aircraft grade aluminum alloy frame is stylish and durable, and a sleek design looks like a regular bicycle.
Designed in Colorado and made in Taiwan; giving you high quality E-Bike with excellent performance at a low price. Optibike has been designing E-Bikes for over 20 years and is the oldest maker of electric bikes in America.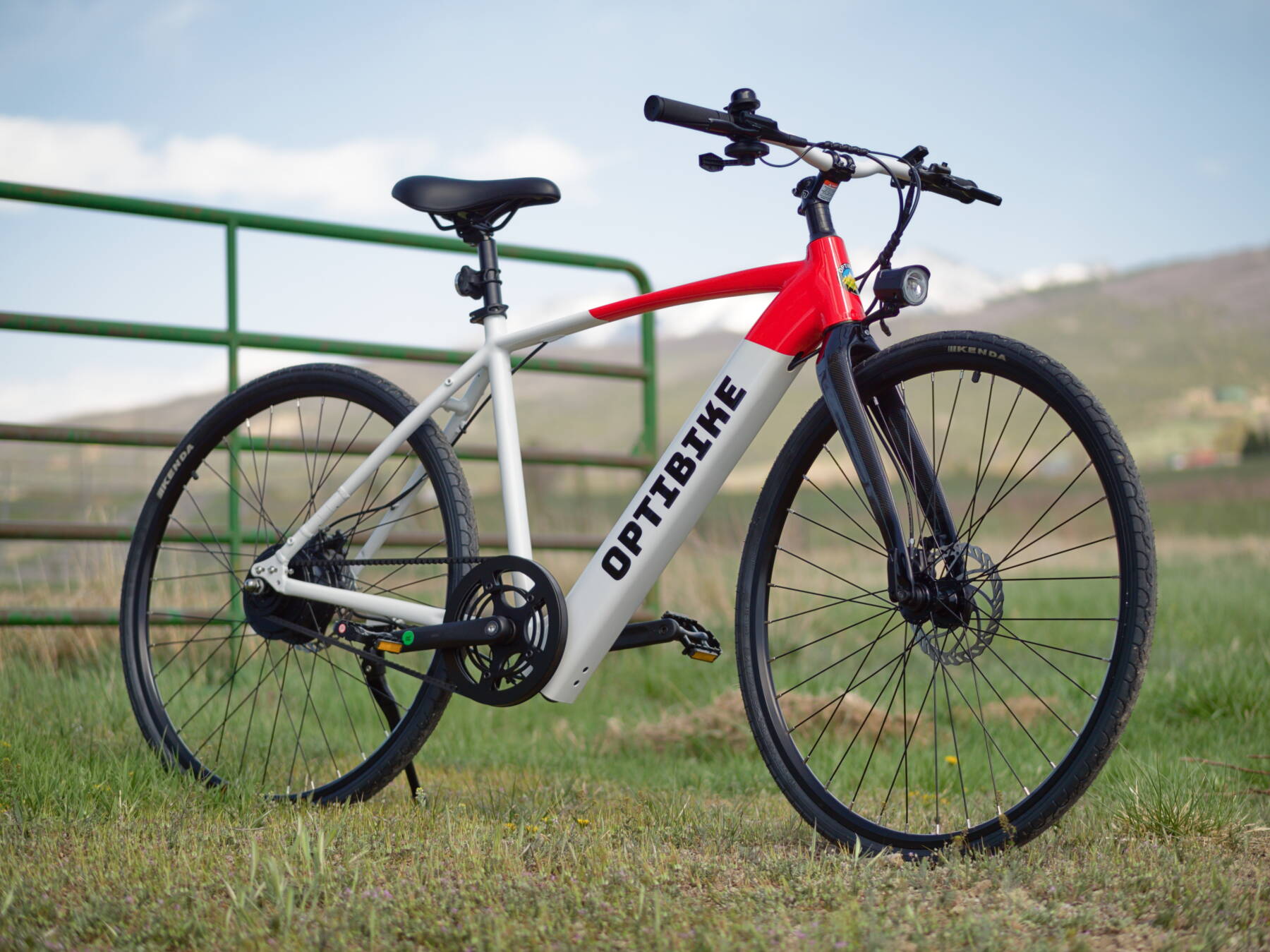 Easy To Ride Torque Sensor: Just Pedal and Go!
The Argon is easy and simple to ride. With no gears to shift and a powerful 500 watt motor, the bike can get you where you want to go with minimal fuss.
The near silent 500 watt motor is more powerful than other similar ebikes. Combined with the dual sided torque sensor, this bike goes up steeper hills and travels further compared to the competition.
Maintenance Free
The Belt Drive requires no lubrication so you don't get grease on your pants, and it never gets covered with grime.
Effortless Control
Pedal harder and the bike goes faster, it's intuitive and easy to ride! The only bike in its class to feature a dual sided torque sensor for motor control.
Range Anxiety? Not here!
Largest battery in a bike of this weight class.
The Argon uses a 14Ah Li-ion battery, which is double the capacity of similar ebikes. This gives you double the range, better hill climbing and longer life for the battery.
With the Argon you will have a smoother ride, more range, and climb steeper hills.
If really extreme range is more your style, we have models that go up to 300 miles on a charge!
Better Ride Quality
Wider Tires and a Carbon Fiber Fork
Wider 38mm (1.5inch tires) give a softer ride and better traction. And the full carbon fiber fork absorbs bumps better and keeps the weight lower.
Great Stopping Power
With Shimano hydraulic disk brakes front and rear, the Argon stops quickly and is safer to ride.
Legal Anywhere
The Argon can be easily configured as a fully compliant Type 1 Ebike, so it is legal to ride almost anywhere a regular bicycle can go. This is great for urban commuting on bike paths or roads.
Easy Service
The battery and controller are one unit and easily removed for service.
The Basics
Top Speed
20 MPH
Max Range
50 Miles (160lb rider with pedaling)
Power Levels
5 Power Levels
Power Control
Pedelec Torque Sensor, Dual Sided.
Includes Throttle that can be easily removed.
Display Type
LCD display with 5 power levels, cycle computer functions, and battery gauge.
Headlight
Integrated LED Headlight, runs from main battery
Taillight
Includes USB rechargeable LED taillight
Motor
500W Continuous Super Silent Hub Motor
Battery
37V 14Ah 518Wh Samsung Li-ion Battery installed inside frame.
Mechanical
Front Fork
Carbon Fiber Fork
Brakes
Shimano BR200 Disc Brakes
Gear Shift
None, Fixed Gearing
Drivetrain
Belt Drive
Front Wheel
22mm 700c Rims, 160mm rotor
Rear Wheel
22mm 700c Rims, 160mm rotor
Tires
700x38
Seat Post
27.2mm Fixed Seat Post
Weight
37 Lbs
Frame
Type
20" Aluminum Road Frame
Stand over
30"