Editor Notes: This is a report from a rider who did a 43 mile ride from Boulder to Denver on a Pioneer Allroad Electric Bike.
My weekend with an Optibike Pioneer Allroad Electric Bike
I wanted to demo an electric bike and ride it to the DEVC sponsored National Electric Vehicle Week Expo on Saturday in downtown Denver. I emailed Jim Turner at Optibike and he offered me one of their Urban Series, the Pioneer Allroad. This is their value priced ebike that still incorporates his unique mid-drive motor integrated into the bottom bracket that directly drives the spindle/chain ring.
I live in Denver, near Alameda and Sheridan, and planned on riding home from Optibike, around 42 miles. The advertised range is 25 miles, Jim lent me a spare battery (5.5#) and a very lightweight charger to take along for the weekend. I took off a bit later than planned on a predetermined route that would offer long stretches without a lot of stopping. The Pioneer offers 5 levels of assistance when pedaling, Level1 being the lowest assistance. I wanted to see what sort of range I could get without swapping the battery, so started off in Level1. Using the middle chainring (3×8 drivetrain), I was averaging around 17mph without a lot of effort. I went 15 miles before the first of five bars was used on the battery level meter.
I've seen the number 6 in front of my age for two years now, love to ride, but have let my strength and fitness slip. I went south through Louisville and up McCaslin Blvd towards the 'Wall' at the intersection with Hwy 128. I used L3 and L4 to get up this hill, probably around 10mph. Not a speed record, but certainly faster and with less effort than on my regular bike. Surprisingly, at the top of the hill, I didn't need to recover and was ready to get back up to speed. Somewhere around 25 miles I had used the second bar on the battery level meter.
By the time I had reached I-70 at Harlan St (Lakeside), I was getting tired and starting using L2 on any inclines. Closer to home I used L3 & L4 on the uphill's. I reached home in just over 3 hours with 2 bars left on the battery! Using L1 only, I think a person could achieve as many as 60 miles.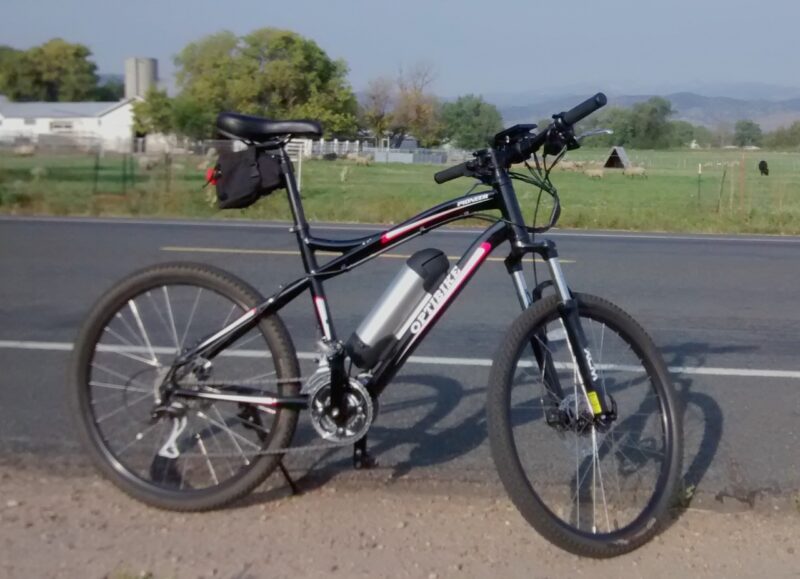 I rode the bike for 35 miles on Saturday using all the levels and still had one bar left. The handle bar mounted indicator will flash when the battery level is very low. L2 will make 20 mph very easy, L3 & L4 will get you close to 25mph. Level 3 seems to give the best battery performance, it doesn't draw much and the battery can recover or normalize while waiting for a red light. L4 uses more power, especially on hills, but if you're on the level and get your speed and cadence up, you can find a sweet spot and see the power drop down dramatically to L2 power draws.
This is an interesting system; you still feel the hills, you still need to use your gears. This is an assisted drive, but with your normal effort, you will see much higher speeds than you could normally achieve and over much longer distances. After riding it for 3 extended trips, I felt I was just beginning to understand the nuances of the power levels and what I could achieve with it. The Pioneer Allroad allowed me to return to the Optibike location with an average speed of over 15mph for a 42 mile trip. There is no way I could've achieved that on my normal bike. The price for this bike with its unique drive system is extremely competitive and includes the latest battery technology. Optibike Pioneer Allroad
Thanks, Jim!
Sincerely,
Gary Rossmiller