Guest blog post from Kevin Bell at Boulder B Cycle
To run a successful bike-sharing program, like Boulder B Cycle, a number of key components need to come together—chief among them are system balancing, maintenance, and marketing. Our partnership with Optibike this summer allowed us to cover those bases in a completely unique way. On Bike to Work Day 2013, we inaugurated The B.E.A.S.T.—The B-cycle Electric-Assist Service Trailer. From day one, it turned heads. 
The concept behind The B.E.A.S.T. was relatively simple: improve our ability to transport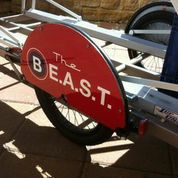 B-cycles by attaching a custom-built bike hauling trailer to an electric bike by Optibike. While much of our balancing and maintenance is completed using a gas-powered truck, adding The B.E.A.S.T. to our fleet allowed for an additional degree of flexibility in our service as well as the added element of face-to-face interaction with our customers.
Robert, one of our long-time supporters and regular riders, took on the duty of riding The B.E.A.S.T. over the summer, and reports on his experiences below:
The first few rides had a lot of trial & error involved: learning to maneuver the trailer while empty, or with one bike, or both bikes, took some patience and careful riding, especially with the added power of the Optibike!
After the first few shifts, I started trying to make my rides more "game-like". Could I make it to every station? Could I locate "Olive" the Boulder Flood bike? Could I get someone to ride between two stations (or more) with me?
The best part of my experience was talking to people. I didn't always meet people at a B-cycle station, and some of my favorite conversations with Boulder residents were while I was shuttling bikes between stations. My most memorable was while riding on Arapahoe, West of Folsom (taking the lane!). It was getting dark, and a new Naropa student was trying to get to The Hill for a concert. He didn't have lights, and didn't realize the many other options so as to avoid that section of Arapahoe. I shared my Boulder Bicycle Map, and a couple CLIF bars, and helped him get to his concert by bike.
Now that the weather has cooled down, The B.E.A.S.T. has been retired for the season. We couldn't be happier with our partnership with the Ferrari of Electric Bikes manufacturer, Optibike, and we're eager to roll The B.E.A.S.T. out once again next spring!
About Boulder B Cycle
Boulder B-cycle is a community nonprofit formed to implement and operate a bike-share system in our fair town. Together with our partners at the City of Boulder, we're working hard to create a transportation solution that's clean, green, healthy, sustainable—and lots of fun!
To learn more about our little nonprofit and all the great sponsors, partners and initiatives behind Boulder's grassroots bike-share program, read our What is Boulder B-cycle Fact Sheet or browse our 2011 Annual Report.
Want to learn more about Optibike's electric bikes? Contact us today or stop by our office in Boulder for a test drive and experience the awesomeness of electric bikes for yourself.