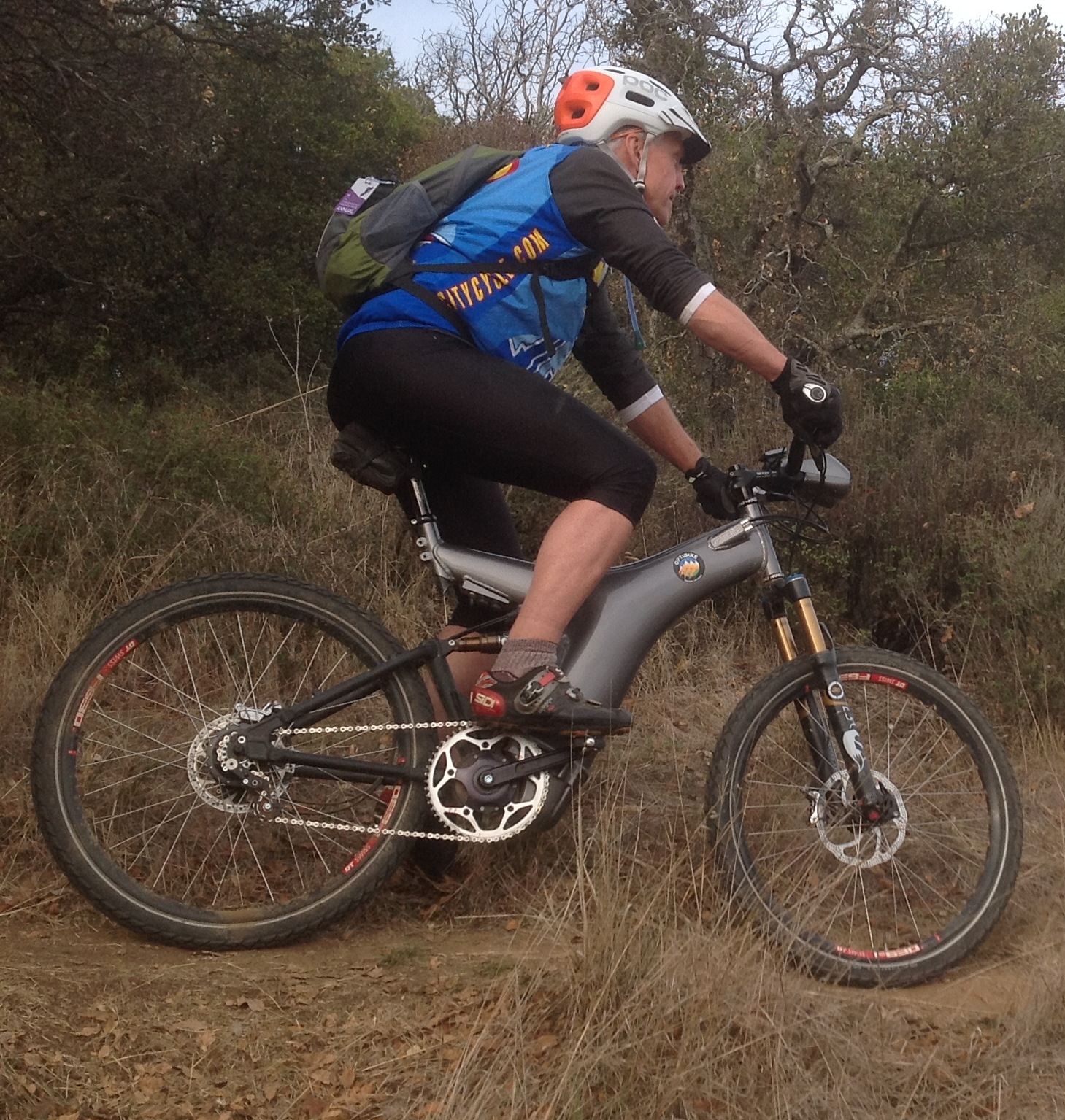 It was a chilly  September morning, 8:00 am in Moab, Utah at Bullrun Singletrack trailhead. Geared up, ready to go, standing over my brand new Optibike R11 e bike. Nervous. Excited. Hopeful.
The unknowns: the trail, the weather, my capabilities, but most of all the bike. I had big expectations, hopes, dreams on the line. I'd been seriously into cycling my entire life.  Cycling mountain or road was my greatest passion! Yeah, even better than that other thing. It was that other thing! – Until 5 years ago when  I just sort of ran out of gas & quit riding.  Not good for my head or my heart. This left a huge gap in my  life.
Last year I decided to test an electric bike, I thought maybe that would get me back in the saddle. The test ride was extremely disappointing – the bike felt like a tank. I thought to myself, Is this what an electric bike is supposed to feel like?
I later found myself in Denver, where I called Optibike to see what their deal was on electric bikes. Within the hour I was on an R11 carving through the streets and back roads of Boulder.  And not just twisting the throttle! I wanted to pedal! Whoa! This was an entirely different experience from my other e bike test rides. This R11 electric bike felt like a regular, lightweight trail bike. Very balanced and very smooth. It was so easy and normal to ride. I was excited!  Inspired. Why was this electric bike so different? The simple answer – Engineering! And brilliantly done so. Integrated from concept to creation, not just  pieced together or built to a mass market friendly price, and so well spec'd.  All the best high-end componentry. I'm liking it!
It would be a leap of faith to buy this bike since I haven't demoed the R11 where I ride-mostly on trails. It's a big chunk of change. There's a bit of a wait to get one. Will it work on trails?  Will it work for me? I really don't know what I'm getting into. But, I figured if I was ever going to get off the couch and get going again, this was my best chance.  And Optibike will let me test it for 90 days. Optibike is great at answering my endless questions and always gets back to me immediately. Their bike & their customer service is obviously dialed in……so I lept!
Back to Moab: Time to roll!
Deep breath…..relax…..cross my fingers….off we go! 2 minutes into the trail I find myself smiling. This feels familiar! 5 minutes in and I'm grinning large, and I hadn't even used the motor yet …..nice steep  slickrock climb ahead; I see most riders walk it up this section. Let's dial in some gas, see what this e bike is about….WhooHoo!  This thing has got guts. Makes  it easily….and I'm still in Eco mode. Now I'm actually laughing out loud. And on we go up and down this fantastic trail, I am back in it!  Back on the trail.  Was I dreaming? It doesn't really seem so different from my regular mountain bike. It  weighs twice as much, but it sure doesn't feel it. Man, now I remember how great biking is!
But wait! How long could I go on this charge? I had the optional 2nd battery but it was back @ camp…..and Opti estimated something like 1 ¼ hr ride times.  This trail and return to base would be beyond that….I didn't care. Go for it!  This ride went for just under 2 hours and I still had lots of battery juice left. Subsequent trail rides have gone 3 hours and still not drained the battery!  And it's not like I'm a pedaling monster! I use lots of throttle getting up hills or completing my loops on the asphalt.
5 months later: Riding has only gotten better. My confidence in technical trail riding is back and actually improved.  I'm stronger as I pedal more every ride.  My heart rate goes higher and recovers quicker. I go further and feel fitter every ride. I feel better on & off the bike!  Some days I use more gas and less me, other days more me less gas. With this setup I have the option.  Long, boring climb..?  Dial in some gas and go. Downhill?  Switch it off and fly.   I guess you can tell by now I am having the time of my life. I can't wait for my next ride!
My R11 has not missed a beat. 1 set of Brake pads are all I've replaced. I can get pretty deep in the woods where I know no one else will come by, and I have complete confidence that my R11 will not leave me stuck. Other R11 locals have had similar experiences and have owned theirs for 6 or 7 years. I feel like Opti truly wants to make my experience with my bike as perfect as possible. And they have certainly succeeded !
As great a piece of hardware as the R11 is, what's more important is what it does. It MOTIVATES me! I've got over 500 miles on my R11 and am amazed at how much fun I have on it every time I ride.
So by now you must be thinking this guy is on the Optibike payroll or has really drunk the Kool-Aid, or both!  Yeah, a lot of talk by me. But hey, meet me in N California anytime or Spring or Fall in Moab or Western Slope of  Colorado. Take my bike on a trail or road ride.  I will say nothing further. If it's not the coolest bike experience you've ever had, dinner's on me.  With a smile!