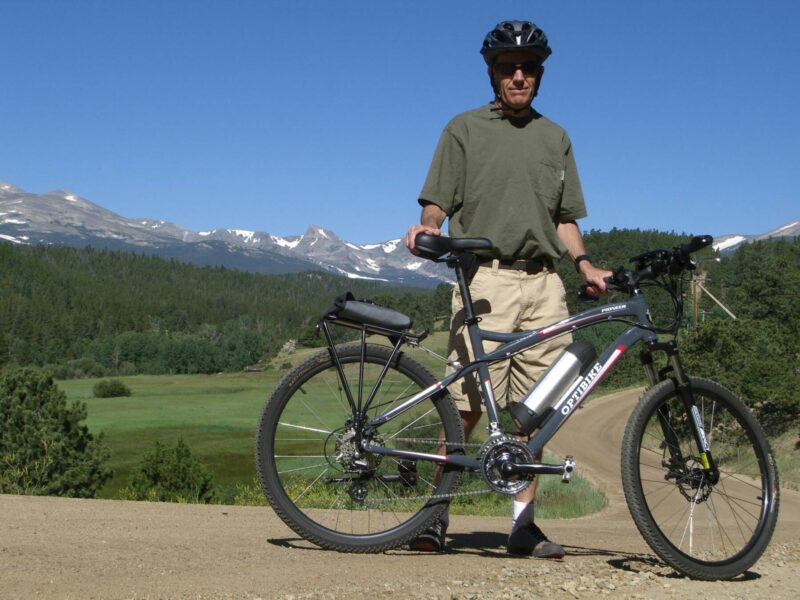 I'm one of the first buyers of the Optibike Pioneer Allroad, and I want to thank you for an outstanding product. All components are well-matched to achieve a perfect balance of performance at a reasonable cost. The tires, the gearing, and even the seat, grips, and pedals match the "all roads" goal: the bike works great for commuting and shopping, as well as mountain roads and trails.
To test the range of the bike, I rode from Boulder up Sunshine Canyon. After 12 miles of continuous climbing (3,000 vertical feet!), I reached Gold Hill, and checked my average speed: 11 mph. There was still enough in the battery to get me over a few hills on the descent and across town to my home.
I won't mention the speeds I achieved on the downhill, but the low center of gravity makes the bike very stable, and the disc brakes felt very safe. Overall, it was a 2-hour recreational ride with mountain views. Just enough range (24 miles, as advertised), and just enough exercise for me.
I've used the bike on steep jeep trails, exploiting the lowest gear ratio and enjoying the front suspension. I've also gone all over town on bike paths, where I feel rather stealthy. Most people I pass think it's just a mountain bike — with a strong rider — because the frame looks "normal", and the motor noise is very, very quiet.
Thanks again.
Bob G in Boulder CO