You can come test ride an Optibike in Denver on May 10th as well as buy an electric mower at a reduced fee at the Mow Down Pollution and Get Plugged into Earth-friendly Living at the Electrify Your Summer Event May 10th in Denver

OzoneAware and Charge Ahead Colorado invite you to discover cool ways to plug into earth-friendly living at the first annual Electrify Your Summer Event at Dick's Sporting Goods Park on May 10th.  Electrify Your Summer will kick off ground-level ozone season by combining Ozone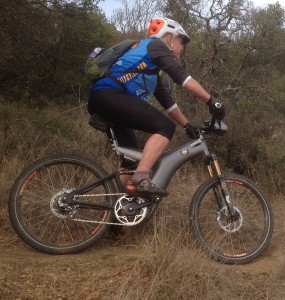 Aware's annual Mow Down Pollution lawn mower exchange with a free community event featuring:
Electric vehicle and Optibike electric bike test drives
Electronics recycling
Music provided by KIMN Mix 100
Free food and drink
And more!
Mow Down Pollution is offering deep discounts on Black and Decker cordless, electric lawn mowers and invites you to pre-register for a new earth-friendly mower and choose whether you will bring an old gas-powered mower to recycle. We will pre-order your new mower for you and have it ready for you to pay for and pick up during a designated time window on May 10th — the same time you may also drop off your drained, gas-powered mower and see the cool stuff Electrify Your Summer has to offer.
The following deals on Black and Decker cordless, electric lawn mowers are available
to those who pre-register:
Model #CM1836 18", 36V mower (retails for $350)

$100 with gas mower trade-in
$150 without trade-in
Model #CM1936 19", 36V mower (retails for $400)

$180 with gas mower trade-in
$230 without trade-in
Come out and get amped!
When: May 10th, 8 AM – 4 PM
*Please note that participation in the lawn mower exchange requires pre-registration and that pick-up times will be assigned, while the Electrify Your Summer is open to the public all day.
Where: Dick's Sporting Goods Field
6000 Victory Way, Commerce City, CO 80022, Parking Lot H         
Why: The Denver Metro/Front Range region is out of compliance with federal standards for ground-level ozone, a harmful air pollutant caused when emissions from motor vehicles, lawn mowers, and other sources mix with heat and sunlight. Switching to electric lawn equipment and electric vehicles is one way for you to make a positive impact on air quality.
For more information, please visit www.OzoneAware.org
And don't forget to check out all our electric bike models on our website and sign up for our E-Bike Newsletter to learn more about what's going on at Optibike and the electric bicycle industry.