This article appears in Innovation News
www.innovationews.com by Curt MacDougall
            These days, when the topic of battery-powered transportation comes up, the conversation immediately turns to electric cars. But there's a Boulder-based firm that's hoping to change all that. Optibike has been building electric bicycles for nearly a decade, and it looks like people are starting to take notice.
Even though e-bike sales remain a fraction of the overall bicycle market, a recent study claims they are growing rapidly, more than doubling in the past few years.
Jim Turner, President and founder of Optibike, says it's easy to see why. "I think they're win, win, win. They save fuel, they get people more fit, they reduce traffic and they use less resources to make. They go the equivalent of 2,000 miles per gallon if you figure it on a 'dollar' basis compared to a car, so they're incredibly economical."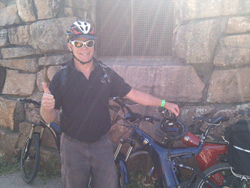 Turner bought his first electric bicycle in 1995, with the thought of riding his kids around town. And while he liked the concept, he says those early versions came up short in the performance department. In particular, they didn't have a lot of power for climbing hills, and he felt their range left a lot to be desired. So a company was born.
"I decided I wanted to start a business and I thought electric bikes would be a good merging of my talents," Turner says. Those talents range from a former motocross champion with a design and engineering degree from Stanford to a job in the Advanced Vehicle Controls division of Ford Motor Company.
That was in 2005. Since then, Optibike has focused on delivering power and performance. The firm's bigger bikes come with a rechargeable 1 kilowatt-hour lithium-ion battery – at least double the capacity of what you'll find on most competitive models, according to Turner. But what helps set Optibike's product apart is the way in which it harnesses that power.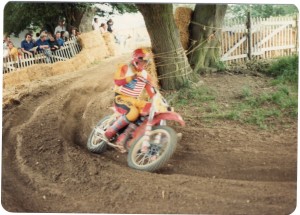 Most e-bikes are propelled by either hub-motors, which drive one of the wheels, or mid-drives, that supply power to the front chain-rings in conjunction with a person's pedaling. And that makes all the difference, according to Turner. "A mid-drive gives you the mechanical advantage of the drive train as you're going through the gears, so you can climb hills more efficiently," whereas a hub-motor is a fixed gear and provides less assistance going uphill. And Optibike's patented mid-drive, called a Motorized Bottom Bracket, has the highest power-to-volume ratio on the market – in other words, you get more "oomph" from a smaller package.
The firm has traditionally focused on high-end bikes featuring top-quality parts, all handmade in the USA and averaging around $12,000. "Then at the end of last year we released a new bike called our 'SIMBB' with a little simpler design and less power, which sells for $5,700," Turner says. And to broaden their product range even further, they brought in an imported bike, the Pioneer Allroad, with a price tag of $2,800. The addition of the two lines helped boost sales for January by 50% over expectations.
Along with a 90 day return guarantee, Optibike also offers a unique exchange program that allows customers to trade-up their bikes in the first six months, should they decide they want to upgrade to a different model.
But Optibike believes in more than just selling you a set of wheels. The company now sponsors a weight loss challenge, something Turner says was prompted by customer feedback. "We had people calling us saying 'I just lost 30 pounds riding your bike to work,' and we though 'Wow, this is amazing, we should start something more formalized.' So we hired a person to administer this program where we actually coach people to get them even better results and help them along the process." Last year's winner dropped 80 pounds, while picking up a check for $5,000.
Turner admits he was probably ahead of the curve when he first got into the e-bike business. "Everyone said 'Oh, it's gonna grow' but it was always 'next year.' And now it's really starting to happen." So much so that even the car makers are getting into the game. BMW now makes an e-bike, and Hyundai just introduced one at this year's auto shows. But Turner welcomes the competition, figuring it spurs overall growth by helping bring electric bicycles to the mainstream.
That fact is becoming more apparent every day. Come football season, Denver Bronco fans might spot the team's newest addition, linebacker DeMarcus Ware, zipping around the Mile-High City on his Optibike.
Looks like the word is getting out.
Learn more about Optibike electric bikes and contact us today at 303-443-0932. We have the widest range of electric bikes to fit your needs and budget.