Introducing the first SIMBB equipped bike from Optibike that is truly Made in the USA. We launched this bike at Interbike 2013, with great e-bike reviews. The Super Integrated Motorized Bottom Bracket (SIMBB) 29C comes with a 600 watt SIMBB and 13 amp-hr battery, all housed in the bottom bracket for super handling due to the ultra-low center of gravity. This bike is incredibly light and great for rides around town. We're excited to announce that we are taking pre orders NOW with delivery in March 2014. Choose from sizes medium or large and colors blue or red powder coated frames, all of which is hand made in the USA. Call us at 303-443-0932 for special introductory pricing.
The idea behind SIMBB first came to me while riding with my wife, Sue. I was riding my regular road bike and Sue, her Optibike electric bike. I noticed that Sue did not use that much power to keep up with me, in fact she was barely using the ECO mode. This got me thinking that there must be more people out there who would be happy with less power and lighter weight than our R8 e-bike. The idea strengthened as I watched so many people riding simple bicycles around Boulder. I thought, they would be happy with some extra help, but they want a simple electric bike, not battery on the frame to be stolen, a bike that is robust and can take abuse. And so the SIMBB idea was born and ready for ordering.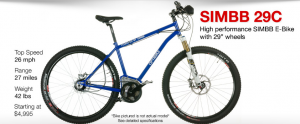 The Ride
The SIMBB 29C electric bike is very fun to ride. It feels super light and handles great in the dirt. The front tire sticks around the turns. The larger 29 inch tires roll over bumps easily and make for a smooth ride. What is amazing about the SIMBB 29C is how light it feels, from throwing it in the truck to riding it on the trials. Sometimes it is hard to believe it is an electric bike with a 600 watt motor and 13 amp hr battery.
The Design
The integrated design allows the Cool Carbon battery to not only cool the battery, but also dampen the motor, making this electric bike ultra quiet. The SIMBB 29C is a great value at $6,700. It is all made in America, with legendary Optibike quality and performance.  Various people in the industry have said the SIMBB is the future of E bikes. Many people still ask, "where is the battery". They find it hard to believe the battery is in the bottom bracket with the motor, it looks so small. SIMBB is a marvel of design and engineering. Good looking and Fast!
The Features
The SIMBB features a revolutionary Battery Management System (BMS) and Bluetooth phone interface. The BMS actively balances the charge in the cells at all times. And instead of wasting the energy in balancing, it actually sends energy to the lower voltage cells, giving better range and extended cell life. These batteries are able to achieve over 1000 cycles and still be at 75-80% of original capacity.
The E Social Bluetooth interface sends all date from the BMS and bike to the riders phone. It then links to the cloud. If you have a problem with your bike, simply push a button on your phone and Service personnel at Optibike can see all the data from your bike. They can quickly diagnose any problems and recommend a solution. In the event there is a problem with the SIMBB unit, the removal of six bolts is all it takes to take the SIMBB off the bike and send it in for repair. Simple and easy. Nothing else comes close. The SIMBB 29C is the electric bike you can ride that feels like a regular bike.
| | |
| --- | --- |
| SIMBB 29C Specifications | |
| Frame | Custom Handmade in USA 4130 CroMoly Steel |
| Sizes | Medium, Large |
| Colors | Red or  Blue Powder Coat |
| Fork | X-Fusion Slide RL2 100mm |
| Headset | Cane Creek 40-EC |
| Derailleur | Sram X-7 |
| Cassette | Sram PG-980 |
| Shifter | Sram X-9 |
| Chain | Sram PC-971 |
| Brakes | Shimano Deore  Hydraulic |
| Wheels/Rims | Shimano MT-55 29er |
| Saddle | Serfas Tegu TGU-5 |
| Seat Post | FSA Gossamer |
| Tires | Schwalbe 29×2.0 |
| Bar | FSA Comet |
| Stem | FSA OS-190 |
| Battery | 37 Volt 13 amp Hr Lithium with Patented Cool Carbon |
| Charger | 37 volt 4 amp |
| Motor | Patented Optibike Motorized Bottom Bracket |
| MSRP | $6,700 |
Click SIMBB 29C electric bike, to order your SIMBB today. You won't find a more powerful, lighter weight, and a better handling electric bike anywhere else. Click here to see what others are saying about this amazing e bike. Want to be the first to hear what's new at Optibike or get special deals from our store, sign up for our Newsletter.