Testimonial from Optibike rider Bob Lippman
The Optibike electric bike is a true revolution in cycling, transportation and sustainability, and has indeed transformed my life and mobility! Despite the weight of two batteries, my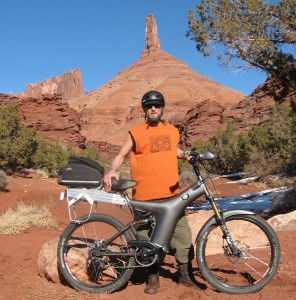 full suspension R11 e-bike performs gracefully and responsively on the trails and slickrock terrain in the Back of Beyond around my home in Southern Utah, riding like the wind.  It has vastly enhanced the range and just plain enjoyment and delight of my rides, and gets me through rough and steep terrain that previously had me walking my non-electric mountain bike. The DPC and shifting systems allows me to choose my peddling options and level of workout on the fly. The range extending touring battery, along with top-of-the-line components, gives me confidence and peace of mind that I'll complete my journeys without power run-out or technical interruption. Optibike's enthusiastic and responsive customer support is also most appreciated. I have owned and ridden other electric bikes, and none have compared with the power, stability, and capabilities of the R11 e bike.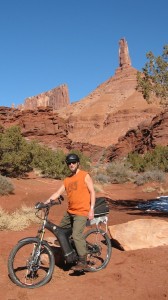 I live off-grid, and charge my Optibike with inverted power from our solar and wind modules. Being active in the community and global efforts to create more sustainable economic and energy systems, free from the pollution, industrialized landscapes, and climate changing, greenhouse gas emissions from the burning of fossil fuels, I can appreciate the great implications, promise, and present capability of the Optibke e bike technology. The Optibike not only provides us with viable, planet-saving (and personal health-saving!) options, but it's also made in America, thus supporting a domestic, green economy and the imperative, national energy transformation back to the use of electric and human-powered vehicles.
Kudos and thanks, Optibke, for the awesome ride, and the right-on, quantum leap forward on so many important fronts!
Bob Lippman, Age 63
Castle Valley, Utah
To learn more about Optibike and the broad range of electric bikes that are available, click here. Optibike has been the leading manufacturer of electric bikes in the world, since it's founding in 2006. Contact us today to see why so many people are falling in love with our e-bikes.