Editors Note: Rhonda is a full time RV'er with her husband Dwayne. This is her story of entering the fun world of electric bikes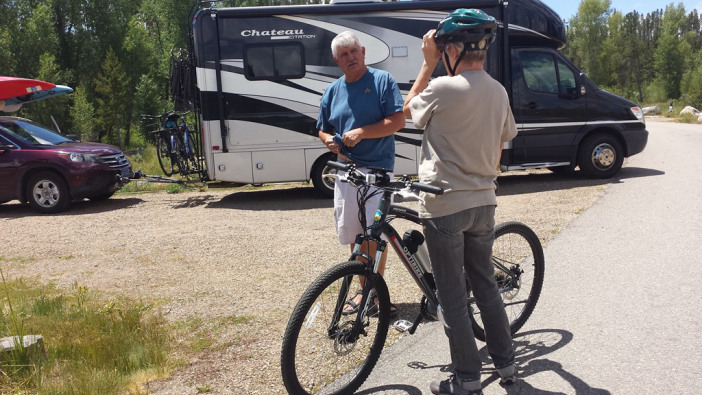 There are only a handful of things I miss about owning a "sticks-and-bricks" home. I miss a big yard so my dogs can run freely, I miss my antique player piano, and I miss the independence of having my own vehicle. Sure, we have "The Beast", but it's just that – a huge, loud, beast of a pick-up truck. And I'm a sports car/luxury car kind of girl. I can drive the truck, but Wayne's a bit possessive about it and prefers to drive me to where I need to go. From the time I was 18 years old until two years ago (and that's a long time), I continuously owned a car. To preserve my sanity (and maybe my marriage) It eventually became necessary for me to figure out a way to have my own transportation again.
I didn't want to buy a car, which I would have to drive separately from Wayne when we travel. Then there were the expenses of gas, insurance, maintenance, etc. I considered a scooter. It was an affordable option and seemed to be a good idea, but there was the problem of transporting it between stops in our travels. It could be done, obviously, but was a bit complicated and would have required a rack to be attached onto the camper – added weight and not a very attractive option.
Then, I started looking at electric mountain bikes, but most of my riding would be on roads. Also, all the photos showed the bikes being ridden by very fit, very young guys. As I was searching the internet, my voila' moment happened. I saw the e-bike!
I warned Wayne that I had found the answer to my dilemma, and there would be an e-bike in my future. As with most things I set my mind to, it didn't take very long to make it happen.
I did some extensive research, reading about different types, styles and manufacturers of electric bikes, and studying the reviews. The one I decided on was the Pioneer Allroad by Optibike. As it happened, the factory/showroom is located in Boulder, CO, which is a beautifully scenic 3-hour ride from our current location. Since it would be my first electric bike, and I was still a little unsure of whether or not I would like riding it and it would fit our lifestyle, Optibike's policy of offering a 90-day money-back guarantee became the deciding factor. It was a no-risk no-brainer, and I contacted the Optibike consultant. The following week, we made the trip to Boulder to see the bike upclose and personal.
I took a test drive and was instantly hooked. I met the owner of the company and designer of the Optibike, Jim Turner. He had two new models in process, and he helped me decide which one was the best fit for me. I placed my order for the Pioneer Allroad and returned to Grand Lake to count the days.
It reminded me of my childhood, when Christmas was getting near and I knew I was getting an awesome gift from Santa. Adding to my anxiety, the shipment of new bikes was delayed two weeks past the expected delivery date. It just made it that much more exciting when the day finally arrived to return to Boulder and pick up my bike.
I've had it now for almost a month and could not be happier. I've put about 95 miles on the odometer, and I am in love with my bike! For the past year, my regular bike has seen very little use, since we've been living in the western US where there are hills and mountains everywhere. I am 64 years old and was completely intimidated by those hills and mountains when it came to bike-riding. I am happy to say that is no longer true. I have acquired my freedom! This bike is everything promised, and then some.
Riding it is pure joy. The motor is whisper quiet and silky smooth. I love the pedal-assist, which is the mode I use most often. It makes climbing hills fun and effortless. The 5 levels of power have handled every terrain I've come across. Then, when I feel like just cruising along without pedaling at all, the throttle mode is the ticket.
I recommend this bike to anybody who is considering an electric bike, or any bike for that matter. I did a lot of research before my purchase, and I think this is the best e-bike available for the money. The price is right in line with other bikes in its class, but it is lighter and more powerful than anything else I found. The bike is well-balanced and comfortable to ride. It also looks very cool, and it fits on my bike carrier. I have found no down-sides to this bike and am excited to take it around the country as we travel. My vehicle problem has been solved. The yard and the player piano will have to wait.