Testimonial by Emmy Michaelsen, R8 E Bike Owner
Dave & I use our Optibike electric bikes for grocery shopping in town, on RV trips to extend our range on outings while the dogs stay in the RV, and definitely fun and adventure.
We live 8 miles south of Coeur d'ALene Idaho, with a fairly sizable grade between us and town. So its perfect for small grocery runs. (We have panniers.)
We have biked the Moab area, Sedona area, Badlands, Boundary Waters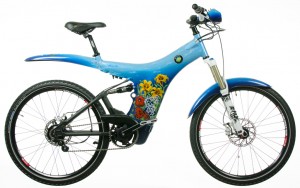 (when not canoeing), eastern Sierras, and Yellowstone. We have a small RV, and a hitch mount rack for our two
Optibike motorized bikes
. We have 3 dogs, who stay in the air-conditioned RV, while we go out-and-about riding.
I also wake up very early and bike ahead of my husband & the dogs, who catch up with me further down the road hours later. I really love riding in the
hours just before dawn, dawn, and shortly there after. It's a safer time to ride, if I'm on a highway, as people seem to have taken to texting and driving.
Though we have pedal bikes too, and we don't necessarily prefer pedal over the electric bike, they have two specific and different purposes depending on the circumstances. We like the diversity of going either way.