Optibike, the world's leading high performance electric bike, is circling Boulder's velodrome and stirring much excitement. Optibike has found its place as a coaching and pacing tool in Boulder's renowned velodrome.
Boulder's velodrome is home to a variety of classes, workouts, professional riders and teams. The facility offers riders of all abilities the fun of indoor cycling.
"The Optibike has been really useful to us, " Tim Kyer said. " Our track here (in Boulder) is small and makes for a unique dynamic ride. Optibike is helping riders learn the smooth pedal stroke and a consistent speed in and out of turns."
Optibike is a Boulder company and been manufacturing the world's finest electric for 12 years.
"We are the first and only velodrome to be using the Optibike," Kyer said. "We are using the 1100 R model and are seeing a lot of ways that Optibike is used for a training tool. We can get through multiple workouts and groups on one battery charge."
In other indoor cycling centers, electric and gas scooters are used. However, there is exhaust and emissions from gas machines. The electric batteries are not always reliable. The Optibike is the first electric bike powerful enough to lead a pack of very powerful cyclists and replace the scooter/motorcycle derny.
Optibike simulates riding the wheel of another bike. The height of the rider, the movement, the smoothness of acceleration are valuable aspects of using the Optibike.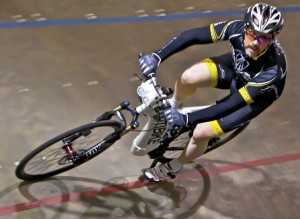 "It is proving to be extremely popular," Kyer said. "Because you can pedal it, you can control and modulate your rhythm and speed, without any choppy variations you get with other types (of a derny.)."
Optibike and the Boulder Indoor Cycling facility are excited to explore this tool and are taking it out onto the road later this month as an outdoor motor pacing tool.
"We are excited to be teamed up with a great local facility, and the Boulder cycling community," Jim Turner, founder of Optibike, said. "We believe the Optibike will soon become an invaluable tool for cycling teams seeking to improve their competitive advantage in Boulder and around the world. We are planning to do some testing with teams racing the USPro Challenge in August."