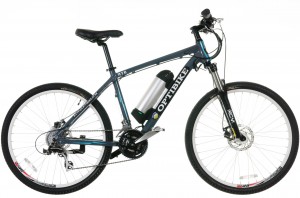 I really enjoy my 10 mile round trip commute to and from work in Boulder taking in the beautiful views of the mountains, breathing in the fresh fair and soaking up the morning sunshine. I tend to switch up my commute with my conventional Trek mountain bike and the Pioneer Allroad electric bike.
During my ride on each bike, I noticed quite a few differences in performance. First of all, it was so much fun riding the Pioneer Allroad e-bike. I really liked the extra boost from the electric power on flats and of course for hill climbing. It was much easier climbing the hills with the Pioneer Allroad e-bike compared to my conventional Trek mountain bike. I still experienced a great workout to and from work.  I arrived to work 10 minutes sooner on the Pioneer Allroad compared to my Trek mountain bike taking the same route and having to stop at the red lights. I was very impressed with the Pioneer Allroad getting me to work and getting me home saving 10 minutes a day each way. Those extra 20 minutes a day of "me" time made a big difference during the busy work week.   On my first couple of commutes, I wanted to experiment with the five power levels using the pedelec system to activate the motor power with my pedaling:
1)      Eco
2)      City
3)      Tour
4)      Power
5)      Boost
I noticed big differences in speed and performance with each level on flat terrain. I started out in eco mode and I was shifting gears quite a bit until the gear selected felt just right. As I moved on to the city mode, I was shifting gears less then in eco mode to have a comfortable gear. When I shifted into tour mode the real fun began. I felt a nice increase in power and didn't need to shift gears as I also increased my RPM's and felt like I was getting a really good workout. The fun, the thrill, the good times and the really good workout got better and better in power and boost modes. When I was in boost mode, I did have to shift my gears quite a bit because my legs were moving way to fast and not covering as much ground. Each power level suited me just fine.
I had a less than 2 mile hill to climb on the way to work.  I did experiment with the 5 power levels on the hill and noticed hill climbing ease in particular in the tour, power and boost modes. I did use the thumb throttle as well for a little extra power.
The Pioneer Allroad is a fantastic entry level electric bike. I had lots of fun commuting to and from work. The stopping power is great and the front fork soaks up the bumps well. The 500 watt mid drive motor is perfect for this e-bike.  Overall, the Pioneer Allroad is an incredible high performing entry level electric bicycle for the first time rider and great for a more experienced electric bike rider as well. You will have an absolute fun time on the Pioneer Allroad!
Check out our full list of electric bikes from Optibike. We offer the widest selection of e-bikes on the market. Contact us today for a test-drive or visit us at our online store.