Recently there has been lots of attention of the all in one electric bike wheel systems such as the Copenhagen Wheel. These wheels  offer convenience for the rider to adapt a regular bike to make a motorized bicycle with little effort.
These wheels house the motor, battery and controller in the hub of the rear wheel. While easy to install, these wheels have their limitations in the performance area. The SIMBB electric bike by Optibike has more power, more torque, bigger battery an superior hill climbing ability.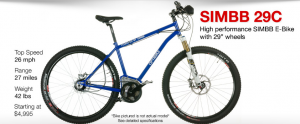 Both the Copenhagen Wheel and Optibike SIMBB share the innovative all in one design where the motor, batteries and controllers are all in one unit. While the Copenhagen wheels has all the these components in the wheel, the Optibike SIMBB has everything in the bottom bracket mid drive area. This gives  the Optibike SIMBB  more performance where it counts in climbing hills. The SIMBB requires modifications found on the bicycle frame instead of the wheel.
While the Copenhagen Wheel houses all the components in the rear wheel, the SIMBB replaces the bottom bracket of the bicycle. The  advantages of the SIMBB are several:
1. Low center of gravity in center of bike
2. No added un-sprung weight to wheel which can cause handling problems.
3. Uses bicycle gears to allow for high efficiency hill climbing with an e-bike
4. Larger battery for longer range
5. More Power for faster hill climbing
6. Higher speeds due to gear system.
In Summary, the Copenhagen Wheel is simple to add to a regular bicycle to electrify it, but the SIMBB has overall superior performance, making a better electric bicycle. Now offered at an affordable price of only $5,700. The SIMBB e-bike is a great choice for anyone looking for great made in American quality and award winning design in a super package. Plus, Optibike is offering a 90 day Satisfaction Guarantee on all electric bikes, a 1 year warranty on the entire Optibike electric bike and a 3 year / 30,000 mile warranty on the battery pack. You can't get that with the Copenhagen Wheel.
Follow us on Facebook and Twitter to learn more about our electric bicycles and what's new at Optibike.