One of the main reasons I joined Optibike was to help change peoples' lives with the world's finest electric bikes.  Indeed, Optibikes change peoples  lives. On a daily basis, I continue to be inspired by the stories of people who are now enjoying an increase in health, fitness, fun, adventure and aliveness.
The Optibike Weight Loss Challenge program participants and the many others who use their Optibikes for getting in better shape brings an inner sense of fulfillment and satisfaction that makes the long and busy work days so worthwhile. Nothing better than getting on my e bike at the end of the day to head home with a smile and more of a bounce in my step after hearing the success of Optibike owners losing 40 + pounds of weight and keeping it off. Others tell me they have decreased their medication for diabetes while also exceeding their weight loss goals. Furthermore, several Optibike owners share that they reduce their risk of heart disease through weight loss and getting more fit on an Optibike. The common denominator that Optibike owners share, is that the Optibike provides a fun and easy way to lose weight and enjoy the process. They go on to say when they enjoy the process it's easier to keep the commitment level high to achieve their weight loss goals. I truly love hearing these success stories and it makes me feel like I am doing what I am supposed to be doing in my career, which is making a difference in peoples' lives through work I strongly believe in.
I really enjoy the eternal youth Optibike owners. Recently, I helped a 75 year young gentleman get outdoors more so he can explore different bike paths and trails he wasn't able to do so without having an Optibike. It really means a lot to me to know that this gentleman is having more fun in life with his electric bike.  I absolutely love hearing the stories of people from 63 to 82 years young using our R11 (off road only model)  to go miles and miles on gravel and dirt trails up to 30 mph or so. It is inspiring to me knowing that instead of going on the golf course, the tennis courts, the swim clubs, Optibike owners are getting their need for speed with the R11 and having a groovy fun time doing so. There are others with the eternal youth who inspire me with stories of getting around town to visit their family and friends instead of using a car to do so. Very cool that the eternal youth Optibike owners want to use an electric bike for transportation and get some good quality exercise on the way to spending time with loved ones and friends instead of getting in a car.
The other group of Optibike owners who inspire me and make the job heart felt are the riders who tell me they feel like a little kid again bursting with child like wonder, joy and happiness.  I even had one of my Optibike customers tell me  "it makes me feel giddy."  Nothing better than hearing Optibike owners share their enthusiasm and passion for their Optibike experience. It's so fulfilling to me to hear those words over and over again…. "My electric bike makes me feel like a kid again" One of the many reasons I enjoy working with Optibike as the electric bike solutions consultant.
Working at Optibike is heart based and heart centered for me. I can honestly say I love my job and most importantly hearing the stories from so many customers how the Optibike has changed their lives in so many ways makes my heart sing for joy.  I love what I do!
If you have an experience with your Optibike e-bike that you would like to share, please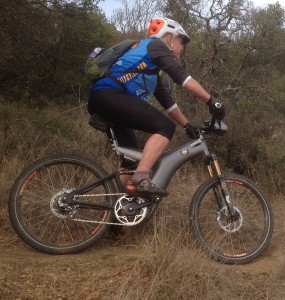 message us on Facebook. We would love to feature you in our e-bike testimonials. Sharing your experience can help inspire others to "feel like a kid again".
Neal