A bill introduced into the California legislature in February 2014 would  allow electric bikes on trails. According to the California bill, any motorized bicycle  that has fully operative pedals and  an electric motor with a power output of no more than 750  watts, and is incapable of hitting speeds higher than 20 miles per hour would be classified as  a "low-speed electric bicycle" and allowed on all bicycle paths, equestrian trial, trial, bike way, etc.The Bill would still allow local communities to restrict use as they desiredWith the new law in place, now e-bike owners can ride on bicycle paths or trails, bikeways, bicycle lanes, and hiking trails. This is great news for the e bike community.
 Another win for the electric bike community is in the state of Minnesota. It too has redefined what an electric bicycle is, permitting e bikes on bicycle trails. Like users of traditional bicycles, e-bike riders need no license or registration, and they needn't affix a license plate to their bikes.
At Optibike we have many options for consumers to choose from when selecting their electric bike. Our entry level bike, the Pioneer Allroad, is a great bike for those just getting into the sport and wanting to save a little money. This electric bike is a great option for commuting or getting around town. Check out how it compares to a regular bike in our Ebike blog. One of the members of our team tested out this new bike on his commute and wrote about how it compares to regular bikes.
Interested in learning more about electric bikes? Contact us today to talk to one of our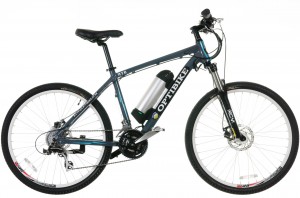 representatives who can help you get into the e-bike that's right for you. Call us at 303-443-0932 or send us a note on Facebook or Twitter. We guarantee you'll love riding any one of our electric bikes, check out our warranty and guarantee for more information.