By Marty Fried
This picture gives an idea of the area I ride, it is a huge area with hundreds of miles of single track and fire roads. It is very dry most of the year with lots of rock, gravel, sand, and soft dirt. Makes for some hairy riding at times. That is the Pacific Ocean in the background.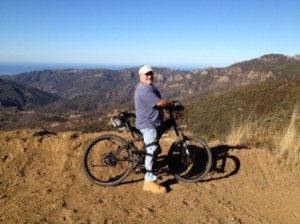 I am having a great time with my 1100 R, riding about four days a week, the bike is taking a beating as I am, hence the boots, levis and knee and shin guards. I've come unglued from the single tracks a few times.
The Optibike has been running great so far, dependable, fast, good handling and comfortable.
For this eighty year old body, 30 plus degree climbs is no problem !!!!!
We have had a very hot summer here this year with many days in the high 90's and 100's, I will be riding even more when this heat cools down.
Yes, it was expensive but worth the money. The value of being out on the bike and being able to ride is priceless.
A lot of guys ask me questions about the bike.  They all say it is good looking and seems to be well built. I don't know what will last longer, my body or the Optibike . I plan on giving it hell until one or the other gives out!!!!
I am able to ride with the young guns with this bike . The picture above was taken yesterday on a 25 mile single track ride in 90 degree weather and I am ready to go again the next morning.
Keep on Riding!
Marty