After first investigating hub motors in 1996, Optibike developed this first
mid drive unit 12 years ago in 1997. This unit featured 24 volts with a 15
amp -hr lead acid battery and about 350 watts of power. The motor was off
board on the crank axle and drove through the final drive chain (other
companies still use variations of this design today. Optibike did not file
any patents on this design as it did not meet the final design objectives
of high power in a small efficient package. ) This prototype validated the
superior performance of mid drives  and led to the development of the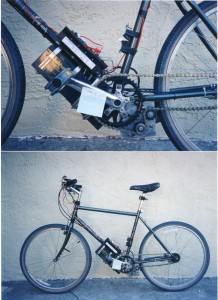 Optibike MBB and several patents.   The MBB design integrated the mid drive
into a small compact package that it is today. The MBB has evolved since
then, with now over 3X the power of the first units and superior
reliability. All Optibike MBB are still made in the USA. The first
prototype pictured here, without suspension,  also convinced us of the need
for suspension.