It's that time of year again, Holidays are just around the corner and you know you will want to make a commitment to yourself again, as you do every year, to finally lose the weight and keep it off. With all the gimmicks and lose weight quick schemes, it's hard to decipher what you need to get started. At Optibike, we're not only the leading manufacturer of electric bikes, but we also have created a program for people who are looking to lose 90+ pounds and teach them how to keep it off for a healthier life.
It all started back in 2010, when we received several calls a week from our happy Optibike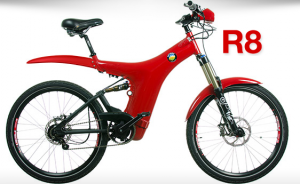 customers sharing their enthusiasm and passion that they lost 5 pounds, 10 pounds, 20 pounds and even 35 pounds on their Optibike without trying to lose weight. They just wanted to be outdoors, have fun and get some exercise. The weight loss was a surprise benefit to them. So, the light bulb went off in 2011 to start the only worldwide weight loss coaching program with an electric bike. It was a powerful realization for us that people now have a new viable solution for losing weight and keeping it off for good with an e bike. The Optibike is the perfect weight loss solution and you will not find another weight loss coaching program in the world using an electric bike and being coached by a former cycling champion Traci Brown.
The purpose of the Optibike Weight Loss Challenge is to provide a foundation and support system for people who want to lose weight and improve their health. The Optibike Weight loss Coaching program is different from other weight loss programs because you have a fun, it's an easy and low impact way to lose up to 90 pounds using an electric bike. You get to be outside, explore new areas and go on an adventure to achieve your weight loss goals. The weight loss coaching program works so well because  you have the fantastic coach Traci Brown coaching and mentoring you. Coach Traci combined with the Optibike is an unbeatable combination. Past participants have lost up to 90 pounds, lowered their risk of cardiovascular disease and cancer and decreased their stress levels. Many have been able to eliminate  prescription drugs, and now enjoy an  increase in aliveness and energy. You can achieve the same results!

The 2014 Weight Loss Challenge
March 3rd – December 31st, 2014
What you need to do to participate in the 2014 Optibike Weight Loss
Make a decision with 100% commitment that it is time to achieve your weight loss goals

Either you currently own an Optibike or you purchase a refurbished or new Optibike

Sign up for the Bronze, Silver or Gold level coaching program

See your doctor and get written approval to participate in the program

Have your initial weigh in as your starting point and set your goal for how much weight you want to lose in the 10 month program

See your doctor for quarterly checkups and weigh in to establish an accurate official weight at each stage of the Optibike Weight Loss Challenge

Write at least 1 blog post a month about your experience on the electricbikefitness.com blog

Participants are selected based on their individual weight loss goals, motivation, 100% commitment and a 'whatever it takes' to succeed attitude
Three Levels of Coaching
There are three levels of coaching, Bronze, Silver or Gold. All the programs begin with a personal understanding of your goals and current condition. Each program is individually tailored to you. All programs include two Optibike riding jerseys, one for you at your current size and one for you to use at your new leaner size.
Click here to learn more about the different levels of coaching.
Grand Prize
$5000 paid to the participant who achieves the highest % of their weight loss goal.
How To Participate
Sign up is easy, log onto electricbikefitness.com and decide your level of coaching.
So what are you waiting for, signup today and be on your way to getting the body and healthy lifestyle you deserve. There's no time like now to get moving and start seeing results. To learn more about the program, Optibike, and the e-bikes we offer, check out our website at: https://optibike.com.