Today is the first day I actually got on the computer – it's been a couple days of serious re-cooperating for me! My "sit" bones hurt during my training (every day since the bike arrived), but after 100 miles and two days my legs are killing me. I'm sure most people get sore after riding 100 miles unless you're a pro – but add MS to it and it's normal for me to take longer to recover!
The bike was AMAZING! Unfortunately, we didn't have great weather, it rained and was pretty windy and cold both days. Luckily, I had the right gear so I was pretty comfortable (well, the rain all over the face/glasses wasn't too much fun).
The bike handled very well. I liked the twist throttle a million times better than the old thumb throttle. Although my hands were sore from all the shifting and twisting, I got used to the bike quickly and felt comfortable within a few good training rides. I did replace the seat with a bigger (think beach cruiser) one. It was just more comfortable for me.
The internal battery took me to about mile 42 on the first day. I switched it over to the external (which I named Tron) and it worked wonderfully. I charged the internal overnight and did the same thing on Sunday. I'm glad I had the back up for sure. I even found a cool case to strap on to it to hold my goodies. I also attached a water bottle holder on the handle bars, it was the only place for one without having to harm the bike with screws, etc. Again, perfect!
The route from Irvine to Carlsbad on Saturday (50 miles) was pretty hilly. Downhill I got up to 43 mph – I tried not to think about the slick roads and just trusted my ability and the bike. The second day from Carlsbad to Mission Beach (50 miles) was pretty wet along the coast. The infamous Torrey Pines was harder than any other climb, but I stayed at a steady 9 mph pedaling pretty hard.
I was worried about leaving my team in the dust, but thankfully we had about four serious riders that I kept up with… Wait, maybe they kept up with me!
The Optibike got a lot of attention. People thought it was beautiful and wouldn't stop staring – it's an eye catcher for sure!
Without it, there would be zero chance of me completing even 10 miles.
Here is a picture of me chilling  at a rest stop.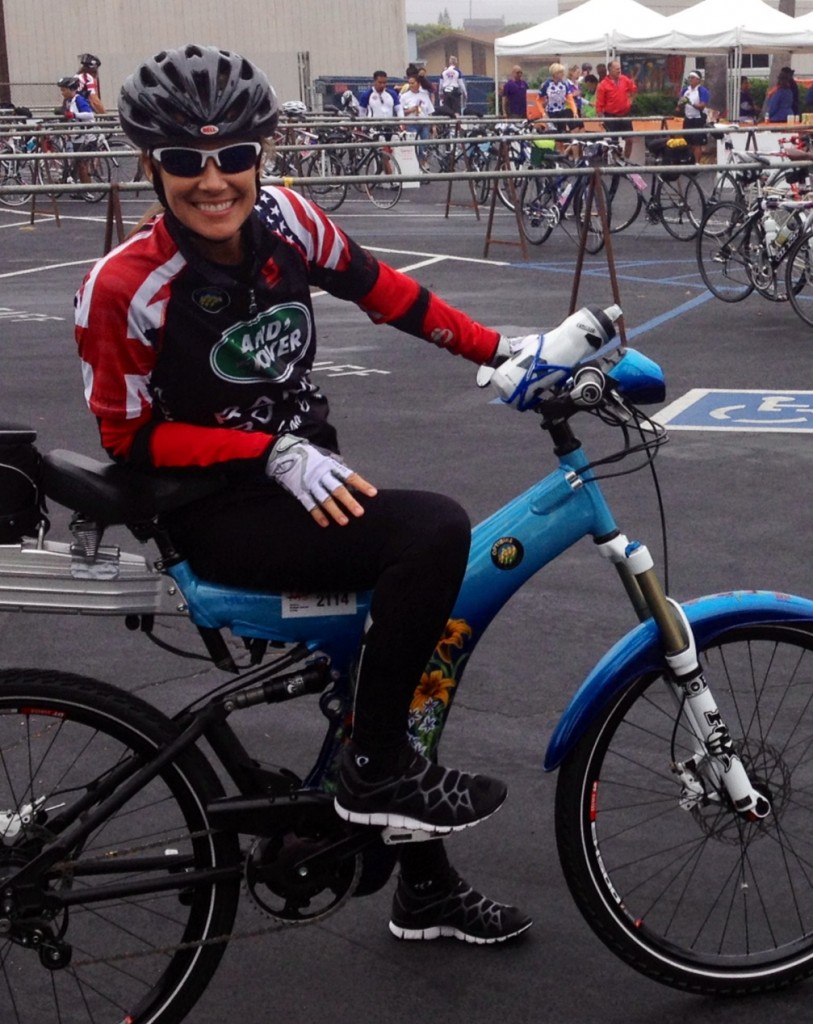 I can't thank you enough Optibike. I checked something off my "bucket list" this past weekend. 100 miles of pedaling for a cure!
Best,
Tricia Chandler
www.LoveMyMSLife.com