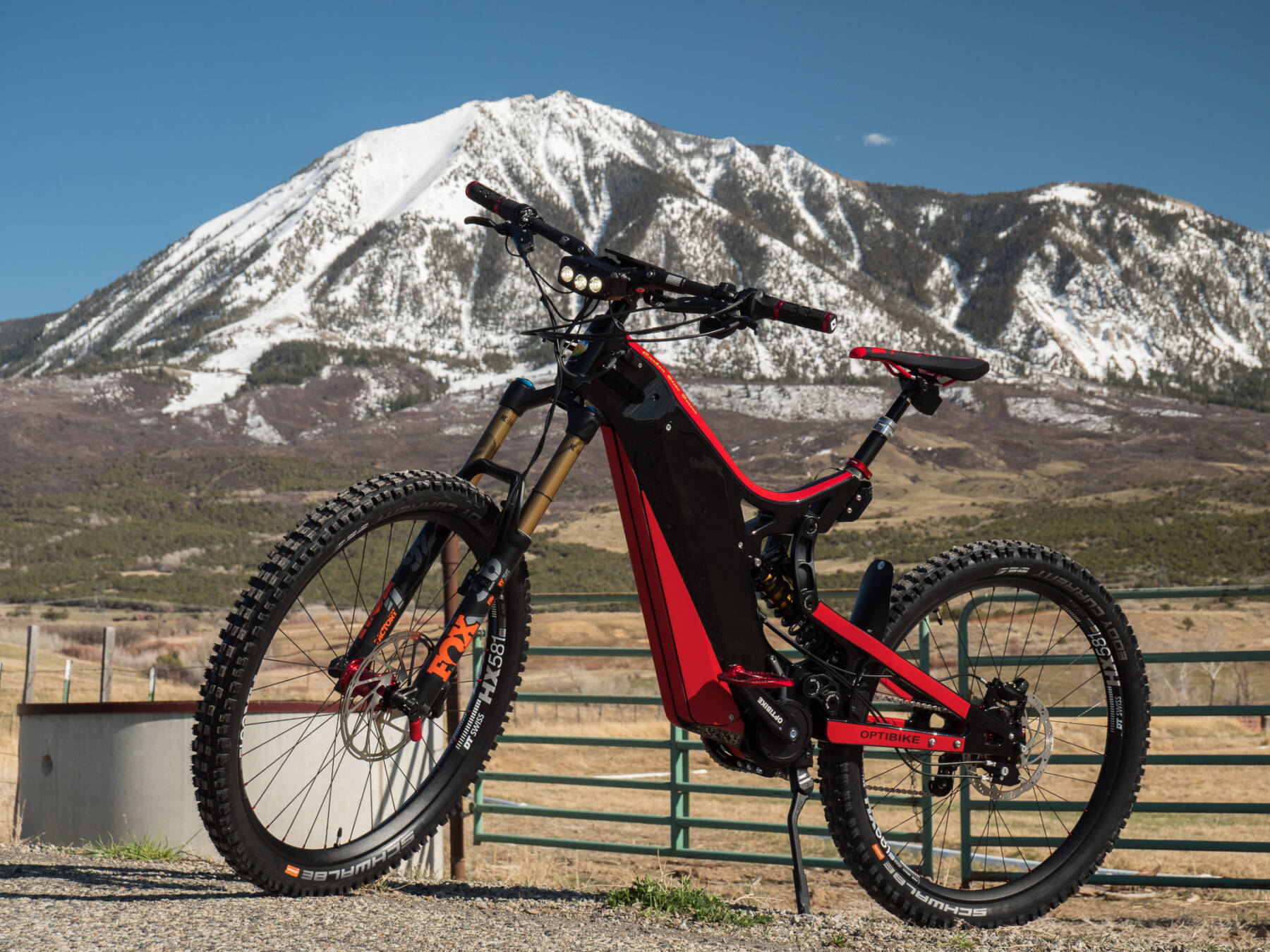 160mm Travel Fox Kashima Front Suspension, gives a smooth ride over bumps and provides safe handling.
220mm Travel Progressive Rear Suspension, keeps your rear wheel planted and provides a comfortable ride.
Removable carbon fiber cased 52 volt 31.5 Ah (1600 Watt-hour) Li-Ion battery.
Optibike MBB Mid-drive with 1650 watts continuous power and 190Nm of torque, our robust drive system gets you up steep hills with ease.
Full Carbon Fiber Swingarm.
27.5 Inch Wheels. Up to 2.8 Inch Tires. We offer a range of tires in onroad and offroad styles.
LCD display with 5 power levels, speed, trip meter, and battery level. Backlit for night-time use.
Rohloff 14 Speed Internally Geared Hub. Shift easily while stopped, and ride any terrain with a wide gear range.
Hydraulic Disc Brakes with 203mm Rotors, huge stopping power for a safer ride.
Dropper Seat Post for Quick Adjustment of Seat Height.
2800 Lumen LED headlight with high/low beam, powered from the main battery for ease of use.
LED taillight for night-time safety, turns on with the headlight and needs no extra batteries.
Carbon Fiber Frame and Swingarm
Motocross Style Progressive Rear Suspension Linkage
1650 Watts of Power | 190Nm of Torque
36 MPH Top Speed
180 Mile Range *
Removable 52V 31.5Ah 1600Wh Lithium Battery
'Add in a massive 52-volt battery pack, along with a 1500 watt-hour battery, and you quickly realize that the Optibike is something far out of the ordinary.'
An Electric Mountain Bike built for High Performance and Long Range
After 18 months of design and development this new wonder bike is here.
The R15C is a combination of everything we have learned in the last 20 years of designing and building electric bikes and racing motocross. There is no other ebike in the world with the features and performance of the new R15C.
It is the fastest electric bike we have ever made, with a top speed of 36MPH and hill climbing ability that is unmatched in the ebike world.
Designed as the ultimate electric mountain bike that can handle any offroad terrain, it's also perfectly at home on the roads for those weekend cruises, commuting to work, or just going into town.
This e mountain bike uses all the best components, ensuring the bike will continue the legendary durability of the Optibike R Series. Most of the Optibikes manufactured in 2008 are still on the road today and are a testament to their quality.
The R15C has an ultra high capacity 1600Wh removable battery which gives it a range of up to 180 miles per charge (220lb rider with moderate pedaling), the removable battery also gives quick access to the wiring and controller. Maintenance is simplified as all components can be removed in less than 15 minutes.
Elegant Carbon Fiber Frame
The elegant flowing lines of the new R15C frame seamlessly integrates the high power motor and long distance battery into a high performance work of art. With a full 160mm of suspension travel in front and 220mm on the rear.
Highest Quality Components
The R15C continues the tradition of only using the highest quality performance components, like Fox Suspension, SRAM Code Brakes, Rohloff Internal Gear Hub, Renthal Handlebars, DT Swiss Rims and more.
The R15C is the highest performing, longest range e-bike Optibike has ever made
Features
Full Carbon Fiber Frame
Full Carbon Fiber Swingarm
160mm Suspension Travel Front and 220mm Rear
Motocross Style Progressive Rear Suspension Linkage
Removable 52 Volt 31.5 Ah (1600 Watt Hour) Battery (38% larger than old R15)
1650 Watts Continuous Power
2500 Watts Peak Power
190 Newton Meters Torque
27.5 Inch Wheels. Up to 2.8 Inch Tires
Road Legal as Class 2 Electric Bike in Power Levels 1, 2, 3
Offroad Only in Power Levels 4 and 5
Carbon Fiber Battery Case
The all new 52 volt 31.5 Amp-hour battery is housed in a carbon fiber battery case that fits seamlessly into the carbon fiber frame. The battery can be removed from the left side for quick change or service of the electronics.
We put every design detail we learned in the last 20 years of building electric bikes into the R15C
Suspension for Any Terrain
The R15C has a Fox Factory 36mm Fork on the front, with a Cane Creek DBcoil CS Shock in the rear. Total rear travel is 220mm and the travel is very progressive due to the motocross style linkage on the swingarm.
Fox Dropper Seat Post
There is a Fox Factory Dropper Seat Post so you can change seat height on the fly.
27.5″ Wheels
The R15C now has 27.5 inch wheels for better handling and reduced rolling resistance. The tires and rims are wider for better traction.
Low Frame Stand Over
The bike features a very low 28 inch stand over so it easy to get off and on and fits a large range of riders.
Compare to other Optibike Models
Power
More power gives you a higher top speed, and lets you climb hills faster.
Battery Capacity
A bigger battery means you can ride farther, it's like the fuel tank on a car.
Battery Capacity and Range
A battery with more capacity generally means you can go farther on a charge.
However at maximum speed, a more powerful bike will also use more battery per mile traveled. Knobbier tires can also reduce range due to more rolling resistance on the road, and the terrain you ride on can also heavily affect the range you get.
At Optibike our ranges are based on actual usage and testing, as well as feedback from our customers.
There is no standard for E-Bike range like there is from the EPA for a cars fuel economy, as a result an electric bicycle manufacturer can claim whatever they like for their range and top speed. At Optibike we try to present estimated ranges and speeds that are as close as possible to what you'll actually get.
Electric Bike Review tests the Optibike R15C Carbon Fiber eMTB
Read more at electricbikereview.com
---
"Optibike's new carbon fiber R15C w/ 3.35 hp and 100-mile range may be the new king of high performance e-bikes"
---
Our Verified Trustpilot Reviews
| | | |
| --- | --- | --- |
| The Basics | Top Speed* | 36MPH |
| | Max Range at 36 MPH | 28 Miles @ 36 MPH (Offroad) (220LB rider with pedaling) |
| | Max Range at 28 MPH | 56 Miles @ 28 MPH (Class 3) (220LB rider with pedaling) |
| | Max Range at 20 MPH | 126 Miles @ 20 MPH (Class 2) (220LB rider with pedaling) |
| | Max Range at 15 MPH | 180 Miles @ 15 MPH (Class 2) (220LB rider with pedaling) |
| | Power Levels | 5 Power Levels |
| | Power Control | Half Twist Throttle |
| | Display Type | Optibike custom LCD display with 5 power levels, cycle computer functions, battery gauge, and headlight control with backlight. |
| | Headlight | Integrated 2800 Lumen LED Headlight with high/low switch. |
| | Taillight | Integrated LED Taillight. |
| | Motor | Optibike MBB, 1650W with 190Nm of Torque |
| | Battery | Removable 52V 31.5Ah 1600Wh Li-Ion Battery |
| | | |
| Mechanical | Front Suspension | Factory Series 36 FLOAT 29 160 GRIP2 HSC/LSC HSR/LSR 110mm Axle 1.5 T Kashima Matte Black Standard Chassis 51mm rake |
| | Rear Suspension | Cane Creek DBcoil CS Shock |
| | Headset | Cane Creek 110 TPR-ZS44/28.6/H8:ZS56/40 |
| | Stem | Thomson Elite X4 31.8mm - Length varies to fit rider |
| | Handlebar | Renthal FatBar V2 31.8mm - Rise and width varies to fit rider |
| | Brakes | SRAM Code RSC Hydraulic Disc Brakes with 203mm rotors |
| | Gear Shift | Rohloff Speedhub 500/14-Speed Internally Geared Hub |
| | Drivetrain | Chain Drive |
| | Front Wheel | DT Swiss 240S 15mm x 110mm Hub hand laced to DT Swiss XM521 27.5" 35mm wide rim with DP Brakes 203mm rotor |
| | Rear Wheel | Rohloff Speedhub 500/14-Speed A12 148mm wide, Laced to DT Swiss XM521 27.5" 35mm wide rim, 13 tooth sprocket with 203mm rotor |
| | Tires | Schwalbe Smart Sam 27.5" x 2.6" |
| | Seat Post | Fox Transfer P-SE, A, 31.6mm, 125mm drop |
| | Weight | 72 Lbs |
| | | |
| Frame | Type | Full Carbon Fiber Frame, Swingarm, and Battery Case |
| | Stand over | 28" |
| | | |
| | | * With 170LB rider and moderate pedaling effort |